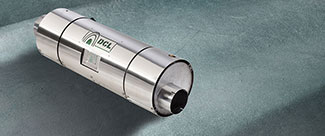 DIESEL PARTICULATE FILTERS (RETROFIT)

DCL's TITAN™ Diesel particulate Filters provide 85% plus removal of diesel particulate matter with passive regeneration. The part is CARB and US EPA verified and ideal for retrofit on medium to heavy duty diesel vehicles running on ultra-low sulfur diesel fuel.
FEATURES
Typically for retrofit on model year 1994-2006 heavy duty diesel vehicles with medium to heavy duty cycles.
Passively regenerates on engines with medium and heavy duty cycles and ultra-low sulfur diesel.
Metal catalyzed pre-filter plus cordierite wall flow filter media.
Stainless steel construction.
Includes back-pressure monitor and logger.
Verified by CARB, US EPA, and numerous other regulatory agencies internationally.
PERFORMANCE PROMISE
DCL's TITAN™ Diesel Particulate Filters are suitable for retrofit on medium to heavy duty cycle on-road vehicles and provide the highest available removal of diesel particulate matter. DCL backs every part with a comprehensive guarantee of performance and workmanship.
DCL sales professionals are strategically situated across North America and Europe to provide local emissions regulation expertise as well as expert product knowledge and sales support wherever you need it. For assistance selecting the right Diesel Particulate Filter for your needs, contact a DCL sales professional.
PRODUCT LITERATURE